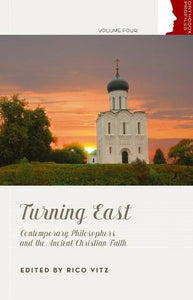 Turning East: Contemporary Philosophers and the Ancient Christian Faith - Spiritual Meadow - Book
Editor: Rico Vitz
Size: 5.5 x 8.5
Pages: 369  Paperback
The Orthodox Church is one of the largest religious groups in the world. Yet, it remains an enigma in the West, especially among those who mistake it either for a Greek version of Roman Catholicism or for an exotic mixture of Christianity and eastern religion. Many, however, are coming to recognize the Orthodox Church for what it is: a worldwide community of Christian disciples that has been faithful to the apostolic command, "stand fast and hold the traditions which you were taught, whether by word or by our epistle" (2 Thess 2.15). Consequently, growing numbers of people are finding their true home in the Orthodox Church that has "continued steadfastly in the apostles' doctrine and fellowship, in the breaking of bread, and in prayers" (Acts 2.42). 
Turning East is a collection of autobiographical essays in which sixteen contemporary philosophers describe their personal journeys to the Orthodox Church, explain their reasons for becoming Orthodox Christians, and offer a sense of how their conversions have changed their lives. Among these converts are dozens of contemporary philosophers. Some are accomplished, world-renowned, senior scholars. Others are junior scholars in the earliest stages of their careers. As a group, they belong neither to any particular philosophical 'school' nor to any particular Orthodox jurisdiction. What they have in common is a desire to enter deeply into an authentic and loving communion with the Living God, with God's people, and ultimately with all of God's creation.

Jeffrey Bishop holds the Tenet Chair in Health Care Ethics and is the Director of the Albert Gnaegi Center for Health Care Ethics at Saint Louis University, and a member of All Saints of North America Orthodox Church in St Louis, Missouri. He is the author of The Anticipatory Corpse: Medicine, Power, and the Care of the Dying (Notre Dame), as well as various articles, including "Biopolitics, Terri Schiavo, and the Sovereign Subject of Death" (Journal of Medicine and Philosophy), "Framing Euthanasia" (Journal of Medical Ethics), "Mind-Body Unity: Gregory of Nyssa and a Surprising Fourth Century C.E. Perspective" (Perspectives in Biology and Medicine).
David Bradshaw is Professor in and Chair of the Department of Philosophy at the University of Kentucky and a member of St Athanasius Orthodox Church in Nicholasville, Kentucky. He is the author of Aristotle East and West: Metaphysics and the Division of Christendom (Cambridge) as well as a number of articles, including "Time and Eternity in the Greek Fathers" (The Thomist), "The Concept of the Divine Energies" (Philosophy and Theology), and "Maximus the Confessor" (The Cambridge History of Philosophy in Late Antiquity)
Mark J. Cherry is the Dr. Patricia A. Hayes Professor in Applied Ethics at St Edward's University in Austin, Texas, and a member of St Elias Orthodox Church