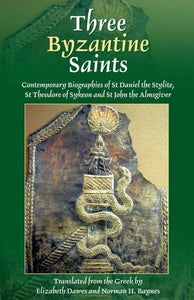 Three Byzantine Saints: St Daniel the Stylite, St Theodore of Sykeon, and St John the Almsgiver - Lives of Saints - Book
Translators: Elizabeth Dawes & Norman H. Baynes
Size: 5.5x8.5
Pages: 275  Paperback
These Byzantine biographies of St Daniel the Stylite, St Theodore of Sykeon, and St John the Almsgiver help us to enter into the Byzantine ascetic thought world, with its miracles, its feeling of the nearness of saints and demons, its contempt for the body, and its longing for the peace of the soul. They also give us a vivid picture of life in Asia Minor before the Arab invasions, and are in many ways documents concerning the social history of Byzantium.
The introduction and bibliographical notes of Dr Norman Baynes are a mine of information and are matched by the excellence of the translations of the lives by Dr Elizabeth Dawes, who captures the widely divergent aspects of Byzantine piety.
John the Almsgiver was Patriarch of Alexandria in a time of crisis during the early years of the seventh century; Theodore the Sykeote represents life among the peasantry of Anatolia at the end of the sixth century; Daniel the pillar saint, who died in 493 AD, challenged many to seek a more disciplined theological and spiritual life through his strange form of asceticism.