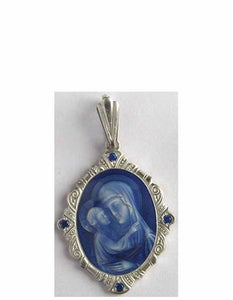 Theotokos Icon Pendant with Blue Enamel - Medallion
Mother of God (Theotokos) Icon Pendant set in sterling silver.
Size:
Pendant only: 7/8"
Including loops: 1 1/4"

Material: Sterling silver, blue enamel
Pendants manufactured by a jeweler in Bulgaria using a proprietary process for blending materials to create uniquely designed products. Imported from Bulgaria, ships from USA.