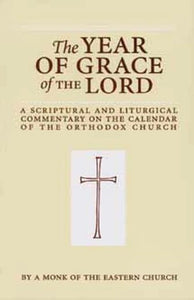 The Year of Grace of the Lord - Spiritual Meadow - Spiritual Instruction - Book
Size: 5.5x8.5
Pages: 254  Paperback
On the basis of worship of the Orthodox Church, The Year of Grace of the Lord takes the reader through the Sundays and feast days from the beginning of the year in September to the time of its completion after Pentecost. It is a guide to the scriptural readings and prayers of the calendar year and reveals the spiritual growth in Christ that is opened to us in them. In the author's words, the liturgical year is "an abridgement of the history of salvation."
A helpful list of reference notes, including historical and theological material, is given at the end of each chapter. This book will be of interest to anyone who wishes to know more about the development and pattern of the Orthodox liturgical year.
About the Author: "A Monk of the Eastern Church" is the well-known pseudonym for Fr Lev Gillet (1893-1980), who authored numerous volumes of biblical and spiritual reflections. United to the Orthodox Church in 1928, Fr Lev Gillet was deeply imbued with Eastern monastic spirituality. In 1948 he was appointed chaplain to the Fellowship of St Alban and St Sergius, dedicated to the work of Christian unity.