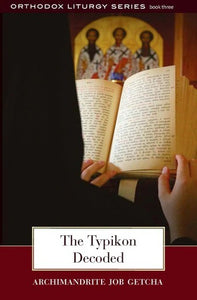 The Typikon Decoded: An Explanation of Byzantine Liturgical Practice - Book
Size: 5.5x8.5
Pages: 313  Paperback
The Byzantine liturgy, with its beauty, its richness, and its depth, intrigues, inspires, and fascinates a great number of today's Christians; and yet it remains for many almost inaccessible if not incomprehensible. The Typikon, the liturgical book that contains the order of the liturgical celebration, is complex, whence the necessity of "decoding" it both for recent converts and for "cradle" Orthodox Christians desiring to deepen their liturgical experience.
And that "decoding" is the goal of this book. Developed from courses given at the Institut Saint-Serge in Paris, it covers the celebration of the offices throughout the Byzantine liturgical year. The organization and composition of the liturgical offices are first situated in the context of their historical development, and then are analyzed in detail from a practical point of view.
This explanation of Byzantine liturgical practice, the first of its kind in English, includes an extensive bibliography and comprehensive glossary.
About the Author:  Archimandrite Job Getcha is the former Dean of the Institut Saint-Serge in Paris, and professor there of liturgy and church history, as well Senior Scholar at the Institut Catholique de Paris. Archimandrite Job is on the faculty at the Institute of Postgraduate Studies in Orthodox Theology at the Orthodox Center of the Ecumenical Patriarchate in Chambesy, Switzerland. 
About the Editor:  Paul Meyendorff is the Fr Alexander Schmemann Professor of Liturgical Theology at St Vladimir's Orthodox Theological Seminary, author of The Anointing of the Sick, and the Editor of this series.