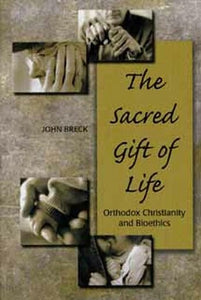 The Sacred Gift of Life - Bioethics - Christian Life - Book
Size: 6x9
Pages: 320  Paperback
The discipline of "bioethics" has developed in response to unprecedented advances made during the past three decades in the area of biomedical technology. Many of those advances have an extraordinary potential for good; nevertheless, much of the new technology has placed us on a dramatic slide down the "slippery slope," from partial-birth abortions to physician-assisted suicide, from surrogate gestation to the cloning of human embryos. How does Orthodox Christianity view these developments?
This book focuses on these issues from the perspective of Scripture and Orthodox patristic tradition. Beginning with a discussion of present-day bioethical dilemmas, it provides an overview of major theological themes that condition any Orthodox response to issues involving the creation and termination of human life. The following chapters then take up questions concerning the meaning of sexuality and the morality of various forms of sexual behavior; the question "when does human life begin?" a moral assessment, from an Orthodox perspective, of procedures such as abortion, in vitro fertilization, and genetic engineering (including human cloning); and end of life issues, including the meaning of suffering, euthanasia, physician-assisted suicide, and care for the terminally ill.
The Sacred Gift of Life provides clear, rich, and compassionate evaluation of these issues. Its informed assessment of various therapeutic protocols makes it of special interest to those medical professionals who want to inform themselves of the unique theological perspective that Orthodoxy Christianity brings to bear on these difficult and controversial questions.
Includes index and appendices.
About the Author: The Very Rev John Breck was Professor of New Testament and Ethics at St Vladimir's Orthodox Theological Seminary from 1984 to 1996. He is presently Professor of Biblical Interpretation and Ethics at St Sergius Theological Institute, Paris, France, and with his wife, Lyn, directs the St Silouan Retreat Center near Charleston, SC.