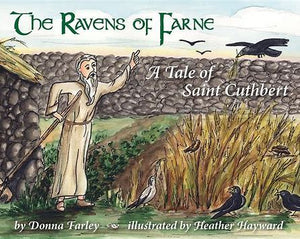 The Ravens of Farne: A Tale of St Cuthbert - Childrens Book
by Donna Farley, illustrated by Heather Hayward
The seventh-century Saint Cuthbert of Lindisfarne is one of England s most beloved saints, honored also by the Eastern Church. Saint Cuthbert s adventurous, yet humble spirit is demonstrated in this delightful tale of his encounter with an unruly raven. The lyrical, humorous text and simple, charming illustrations of The Ravens of Farne will appeal to readers of all ages. A picture book for children preschool age and up.
Donna Farley is a Word Guild Award winner for Canadian Christian Fiction. Her short stories have appeared in numerous anthologies and magazines in the US and Canada, including Cicada magazine for young adults. She has also published poetry and nonfiction, including the Conciliar Press books Seasons of Grace: Reflections on the Orthodox Church Year, and Bearing the Saint.
Heather Hayward would rather draw than do just about anything else. She produces artwork and illustrations for clients when she isn't busy doing illustrations for books. She has an Art degree from Western Washington University and a Graphic Design degree from Whatcom College. She resides in beautiful Lynden, Washington.
Format: Paperback
Dimensions: 9 X 6.75
Page Length: 32 pages