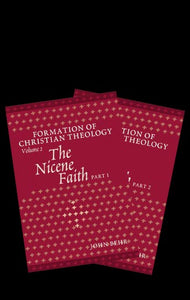 The Nicene Faith Parts 1 and 2 - Theological Studies - Church History - Book
Size: 6x9
Pages: 480
Series: Formation of Christian Theology, Volume 2
In this sequel to The Way to Nicaea, Fr John Behr turns his attention to the fourth century, the era in which Christian theology was formulated as the Nicene faith, the common heritage of most Christians to this day. Engaging the best of modern scholarship, Behr provides a series of original, comprehensive, and insightful sketches of theology of the key protagonists of the Nicene faith, presenting a powerful vision of Christian theology, centered upon Christ and his Passion.
Part One, "True God of True God," opens with a reflection on the nature of Christian theology, challenging common presuppositions, and an analysis and survey of the fourth century controversies, followed by studies of Alexander, Arius, the Council of Nicaea, and, Athanasius.
Part Two, "One of the Holy Trinity," provides analyses of the work of Basil of Caesarea, Gregory of Nazianzus, and Gregory of Nyssa, together with their opponents, in particular Eunomius and Apollinarius.
Each part is contained in a separate paperback book.
About the Author: The Very Rev. Dr John Behr is former Dean and Professor of Patristics at St Vladimir's Orthodox Theological Seminary. He is Editor of the Popular Patristics Series and the author of The Way to Nicaea, The Nicene Faith, The Mystery of Christ: Life in Death, and Becoming Human, all available from SVS Press.