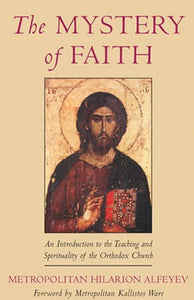 The Mystery of Faith: An Introduction to the Teaching and Spirituality of the Orthodox Church - Spiritual Instruction - Book
Size: 6x9
Pages: 268  Paperback
Newly translated from the hugely successful Russian edition, The Mystery of Faith is now available in English for the first time. 
Founded on spiritual experience, Orthodox theology is a living entity today no less than hundreds of years ago. The same questions have always confronted us: What is truth? What is the meaning of life? How can one find joy and peace of heart? What is the way to salvation? Christianity does not aim to dot all the "i"s by answering every question the human spirit asks. But it does open up another reality which transcends all that surrounds us in this earthly life. –Metropolitan Hilarion Alfeyev, The Mystery of Faith
In this profound work, Metropolitan Hilarion Alfeyev provides a personal commentary on the teaching of the Orthodox Church, its historical development and its relationship to the spiritual life. Drawing on ancient texts and contemporary sources, he combines a clear exposition of the central doctrines of God, the Trinity, creation, the Church, prayer and the sacraments with an exploration of their meaning for today.
About the Author:  Hilarion Alfeyev, Metropolitan of Volokolamsk, is chairman of the Moscow Patriarchate Department for External Church Relations. He has studied under Metropolitan Kallistos Ware at Oxford University, lectured at the Moscow Theological Academy and is the author of more than 300 publications on dogmatic theology, patristics and church history as well as several compositions for choir and orchestra.
About the Translator:  Jessica Rose is an author, a practitioner, and a teacher of pastoral care.