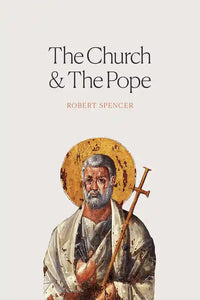 The Church and the Pope - 2 Books Multiple Book Discounts - Book Study
The Church and the Pope
The Case for Orthodoxy
by Robert Spencer
Ships in about two weeks of purchase
1st edition
Robert Spencer is a New York Times Bestselling author

(softcover): 

112

 pages
Today, the place and authority of the bishop of Rome in the first millennium has become a matter of great interest and importance not only for the official dialogue but for all serious seekers of the true Church. One such seeker is the prolific New York Times Bestselling Author Robert Spencer, who applied his analytical acumen to a thorough examination of The Church & The Pope.
From the New Testament and the Apostolic Fathers through the Oecumenical Councils and the filioque controversy in the time of St. Photios the Great, on up to the Great Schism, all of the "flash points" of church history indicate the same conciliar nature of the Church as witnessed in Acts: "it seemed good to the Holy Spirit and to us."
The whole "cloud of witnesses" give testimony to the truth of the Church vis-a-vis the post-schism papal claims: the Apostle Peter himself and the choir of the Apostles, St. Clement of Rome, St. Ignatius of Antioch, St. Polycarp of Smyrna, St. Irenaeus of Lyons, St. Cyprian of Carthage, St. Cyril of Jerusalem, St. Athanasius the Great, St. John Chrysostom, Blessed Augustine, St. Gregory the Great, St. Photios the Great and others.
Viewing the life and nature of the Church throughout the first millennium through the spiritual vision of these great saints, Spencer first walked, and now walks us, out of the weeds of innovation and division and back into the garden of the Church Fathers where unity and continuity shine.
ABOUT THE AUTHOR
Robert Spencer is the director of Jihad Watch and a Shillman Fellow at the David Horowitz Freedom Center. He is the author of twenty-three books including two New York Times bestsellers. Spencer is a regular columnist for PJ Media and FrontPage Magazine and has written hundreds of articles about Islam and other issues. He is also a regular on major news media outlets and speaker at universities across America.