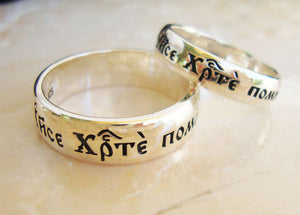 Rings - Slavonic Jesus Prayer Ring - Jewelry - Men's Sizes 7and 8
Note that the men's ring pictured is the one with a wider band.
"Jesus Prayer" stering silver ring in Old Church Slavonic, inscribed with the words "Lord Jesus Christ have mercy on me":
Available in men's sizes 7,8,12. Each ring comes complete with a velvet ring box, and is carefully hand-polished for a beautiful, high gloss finish.
.