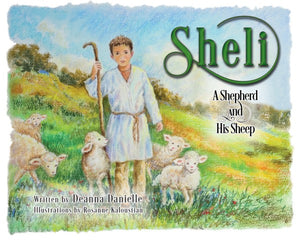 Sheli- A Shepherd and His Sheep - Hardback - 1st edition signed by author - Childrens Book
For book trailer video, copy and paste the click link below
https://www.youtube.com/watch?v=NTfp6BgY9zM&t=6s 
Storyline:
In a world of uncertainty, a little sheep's unwavering faith in her Shepherd becomes an extraordinary beacon of hope, inspiring others to find courage, unity and the strength to face life's challenges together.
In a world where many wonders are yet to be uncovered, meet Sheli, an endearing little sheep who shares an extraordinary bond with her Shepherd. Drawn by an unshakable love and trust, Sheli walks closely by the Shepherd's side, finding comfort and security in his gentle embrace.
But as fate would have it, the Shepherd places Sheli at the back of the herd, a position that leaves her feeling lonely and afraid. However, little does Sheli know that this seemingly heartbreaking circumstance will be the catalyst for her profound transformation.
Amidst the trials of solitude, Sheli embarks on an unexpected journey of self-discovery. As she roams through the expanse of the meadows, her heart opens up to the suffering and struggles of those around her. With newfound empathy, Sheli becomes a beacon of compassion, bringing warmth and understanding to the other sheep.
Guided by the Shepherd's wisdom, Sheli's encounters with adversity become stepping stones for growth, teaching her invaluable lessons of resilience and hope. As she touches the lives of others, Sheli learns the power of her purpose, an awakening that ignites a ripple effect of love and unity throughout the herd.
In 'Sheli - A Shepherd and His Sheep,' follow Sheli's heartwarming journey and unwavering faith in her Shepherd's love. This tale transcends the boundaries of age, resonating with readers of all backgrounds, as it weaves a timeless narrative of courage, friendship, and the transformative power of compassion.
Join us on this captivating adventure through the meadows, where Sheli's experiences will remind you of the enduring value of kindness, and how embracing our unique purpose can lead us to touch the lives of others in the most profound and meaningful ways. 'Sheli - A Shepherd and His Sheep' is a story that will stay etched in your heart, serving as a poignant reminder of the beauty that lies within every soul, just waiting to be discovered.
An inspirational children's book for kids of every age! Sheli will encourage and inspire young minds to seek what is good. Leaving them hopeful and confident about the future and helping them understand themselves and the world around them.
Features:
Hardback Size 10.25 x 8.25 inches
35 pages with 16 absolutely beautiful color illustration by Rosanne Kaloustian
17 Bible quotes with a very inspiring story!
First edition sign by author Deanna Danielle
gift inscription page
Form the Author:
 

Sheli

 is a story that beautifully explores the themes of love, loyalty, faith and the quest for belonging.
 I believe that these four elements are chief ingredients that need to be taught and talked about as we nurture and invest in the little lives of an up-and-coming generation.