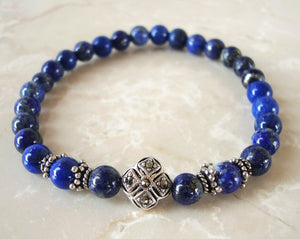 Semi-Precious Stone Lapis Lazuli Prayer Bracelet - Jewelry - Prayer Rope
Semi-precious stone prayer bracelet embellished with sterling silver accents and a sterling silver cross-bead that gently sparkles with Swiss marcasite. Strung on clear, stretch Power Cord. The standard size has 28 beads and an inner circumference of 6.5 - 6.75".
A note from the Nuns: "We first offered these stone prayer bracelets as an aid for women who work in the business world, as a reminder to pray without drawing attention to themselves."