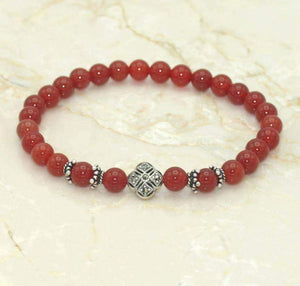 Semi-Precious Stone Carnelian Prayer Bracelet - Jewelry - Prayer Rope
Carnelian is a natural gemstone that is a variety of chalcedony. It is an even, red color with little variation. Carnelian is one of the oldest gemstones valued by man and specimens of carved carnelian have been recovered from archeological sites dating back to 1800 BC. It is also one of the twelve gemstones which decorated the Breastplate of Aaron.

This semi-precious stone prayer bracelet is embellished with sterling silver accents and a sterling silver cross-bead that gently sparkles with Swiss marcasite. Strung on clear, stretchable Power Cord. The standard size has 28 beads and an inner circumference of about 6.5 ".