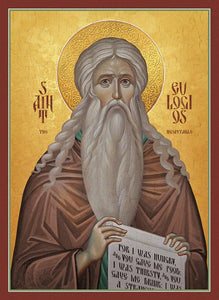 Saint Eulogios the Hospitable
High quality color print ~ 8 x 10 inches mounted on wood.
Saint Evlogios lived in the Egyptian Thebaid where he labored as a stone mason each day. He became known as "the hospitable" because his life's main care and enjoyment was to host and show kindness to poor and weary traveler. Despite his heavy and difficult work each day, each evening he ran to the market where he would search out those without food and lodging. Especially in the winter, he would go out in the dark holding a lantern looking for strangers to whom he might give shelter and other gifts. He even once hosted Abba Daniel and his disciple when they had come to town and were left without food and shelter. St. Eulogios lived more than a hundred years, benefiting his fellow men and died peacefully in the Lord.