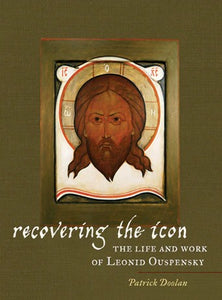 Recovering the Icon: The Life and Work of Leonid Ouspensky - Iconography - Theological Studies - Book
104 pages - 111 color plates
The author has selected, photographed, and commented on more than one hundred representative works of the gifted iconographer Leonid Ouspensky (1902-1987), who rediscovered the sources of Orthodox Christian iconography and painted icons of immense theological and spiritual import. The volume includes a powerful biography by the iconographer's spouse, Lydia Ouspensky, and a moving recollection of the master iconographer's approach to icon painting, by his student, the author Monk Patrick. 
Leonid Ouspensky settled in France following the Russian Revolution and worked as a talented but struggling commercial painter prior to discovering the icon, which became his life's work. Orthodox iconography had been in full decline since the seventeenth century, and Ouspensky set out to rediscover the genuine sources of Eastern Christian art and to recover the tradition that had spawned them. An icon was not to [Ouspensky] an aesthetic creation, but a vision in lines and colors of the Divine World, and it pervaded, conquered, and transfigured the fallen world.
On a practical level, through detailed study of the most representative ancient icons, and on a theological level, through deep study of the dogmatic foundations of the icon, Ouspensky produced his monumental work, Theology of the Icon. The book was later translated into English, Italian, Greek, Romanian, and Polish, and posthumously in Russian, and remains a major reference and influence in the field. 
Ouspensky painted numerous icons himself, which are characterized by perfection of technique, purity of style, and depth of theological and spiritual expression. These icons are dispersed throughout various churches and private collections. For more than forty years, Ouspensky taught iconography in Paris to pupils from around the world. They consistently heard his humble admonition: "The old icons are the best teachers." Some of these pupils subsequently founded schools in their countries of origin, and spread Ouspensky's influence abroad, including the author of this volume.