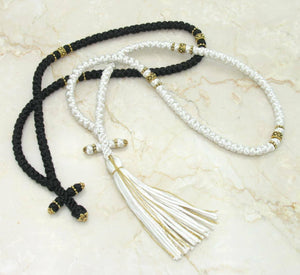 Prayer Ropes - Keepsake Wedding Set or Baptism Prayer Ropes
The Keepsake Wedding prayer rope set consists of two 100 knot prayer ropes in white and black satin cord. Adorned with gold divider beads and accents, the prayer rope for the bride is made with a tassel and in-woven gold threads, while the prayer rope for the groom is made with a knotted cross.

The Wedding Set comes in a gold box with a clear top. 
The white prayer ropes is 13" long and the black prayer rope is 10" long.