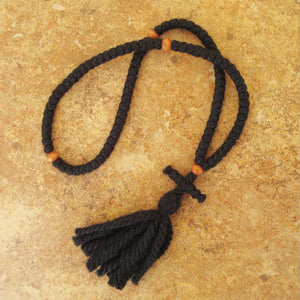 Pilgrim's Prayer Rope - 100 Knot Wool
T
his Pilgrim's prayer rope comes in 100 knots made of 100% wool 3-ply ATHOS yarn, with a wooden bead every 25 knots, and a cross and tassel.  It's simplicity reminds one to try to follow Christ's commandment to "pray without ceasing," and to commit onself to a life of prayer. The classic book, 
The Way of a Pilgrim
, was said to have been inspired by the labors of St. Paisius Velichkovsky, the teacher of noetic prayer.