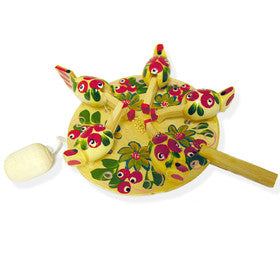 Pecking Chicken Paddle Swing Wooden Toy - Easter Pascha Gift
size: 5 inches, with the handle 7 inches. Colors and design may vary but all are cheerful!
This is a hand-made and hand-painted Russian swing toy. The pecking chicken set is made and painted in village  Bogorodskoye - the most famous village where Russian toys come from.
To operate this toy you hold it by the handle and swing the ball in a circular motion. Once the ball is swinging the chickens start pecking at the seeds painted on the bottom surface. This is a great toy which is enjoyed by children as well as adults. The toy is very entertaining and not only has realistic motion but realistic pecking sounds. This is one of the most traditional and original of all Russian toys.