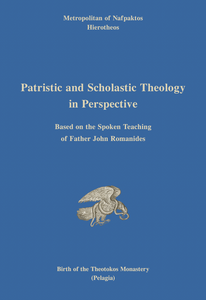 Patristic and Scholastic Theology in Perspective by Metropolitan Hierotheos of Nafpaktos - book
Patristic and Scholastic Theology in Perspective
Metropolitan Hierotheos throws light on the distinctions between patristic and scholastic theology, using as his basis the spoken teaching of Father John Romanides.
In the West a particular theology developed using human reason, whereas patristic theology centers on the revelation of God to the human heart through the illumined nous. This book focuses on the difference between these two approaches to theology, as well as exploring the wider context of Greek philosophy, Russian theology and neo-Hellenic theology.
Because the historical foundations of patristic theology lie in the united Christian Empire of the Romans, whereas scholastic theology finds expression in Western Europe as shaped by the Franks, a final section on 'Franks and Romans' presents controversial views of historical events, including the French and Greek Revolutions, from an Orthodox theological perspective.
It is fashionable today to teach that patristic theology came to an end in the eighth century, that scholastic theology transcended patristic theology, and that Russian theology surpassed both. However, such views undermine the foundations of Orthodox theology and ultimately of the Orthodox Church.