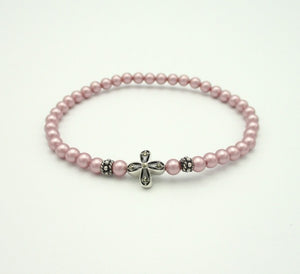 Panagia's Pearls Powder Rose Prayer Bracelet - Jewelry - Prayer Rope
Panagia's Pearls are composed of Swarovski crystal pearls that have a lovely luminescent quality and a smooth finish. Each bracelet comes with forty 4mm crystal pearls,

and a sterling silver marcasite cross and accents. 

The pearls resist chemicals, perfumes and UV rays. Strung on clear, stretch "Power Cord". The bracelet has an inner circumference of 6".