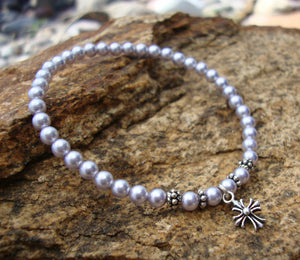 Panagia's Pearls Lavender Prayer Bracelet - Jewelry - Prayer Rope
Panagia's Pearls are composed of Swarovski crystal pearls that have a lovely luminescent quality and a smooth finish. Each bracelet comes with forty 4mm crystal pearls, and a sterling silver drop cross and accents. The pearls resist chemicals, perfumes and UV rays. Strung on clear, stretch "Power Cord". The bracelet has an inner circumference of 6".
The Lavender bracelet is a light shade of lavender, with a hint of grey.
---