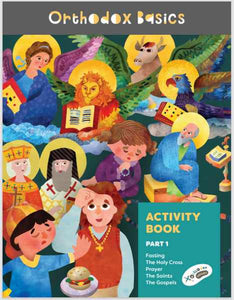 Orthodox Basics Activity Book, Part 1 - Chrildrens Book
This 40-page, fully illustrated activity book from Orthodox Pebbles covers five topics: Fasting, the Holy Cross, Saints, Prayer, and the Four Evangelists. From word puzzles to prayer wheels, to making a paper vigil lamp, your children will build skills while learning about the Orthodox Christian Faith. Pair these activities with the accompanying videos found on Ancient Faith Kids via the YouTube channel, ancientfaith.com, or on the Ancient Faith mobile app!
Full color inside and out!
About the Author: Natalie is an experienced religious educator, certified by the Greek Orthodox Archdiocese of America, and has volunteered for over ten years as a church school instructor and coordinator. She is also a trained artist and graphic designer whose mission is to create age-appropriate teaching materials for young children. In 2016 she launched Orthodox Pebbles, a free website that provides hands-on teaching resources--a work she continues with great love and dedication.
Paperback: 40 pages
Dimensions: 8.5 x 11 inches