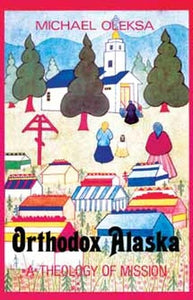 Orthodox Alaska - Christian Mission - Church History - Book
Size: 6x9
Pages: 252  Paperback
In 1794, the first Orthodox missionary monks arrived at Kodiak to find what they believed would be an indigenous Orthodox Church in the New World. They recognized as integral to their mission the defense of Native people who were being abused, exploited and enslaved by an unjust regime. The mission understood its function in cosmic terms: to sanctify, here and now, this land, these people, and bring them to the unity-in-love which is the goal of authentic Christian mission.
The history of the Alaskan Church confirms the eternal and indestructible character of the Church's vision, integrating into her worship the cosmic, scriptural and eschatological dimension of faith. Among the Native Americans in Alaska, Orthodoxy has become an integral part of an authentically American culture. Consequently it is appropriate that an Orthodox theology of mission should originate from the Alaskan context. If an American Orthodox missiology is to emerge, its formulation should serve not only the Church in America but contribute to the clarification of Orthodox theology for the universal Church as well.
About the Author: Archpriest Michael J. Oleksa, Alaskan Orthodox missionary for nearly three decades, completed his doctoral work in Church History and Patristics at the Orthodox Theological Faculty in Presov, Slovakia, in 1988. Upon completing a year of research and teaching at Moscow's St Patriarch Tikhon Theological Institute, he was elected Dean of St Herman's Seminary in Kodiak, Alaska, in 1996. He is also the editor of Alaskan Missionary Spirituality.