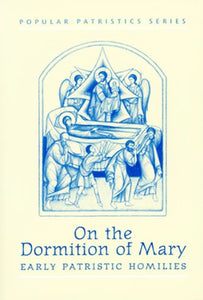 On the Dormition of Mary: Early Patristic Homilies - Theological Studies - Book
Translator: Brian E. Daley, S.J.
Size: 5x7.10
Pages: 269  Paperback
Popular Patristics Series Volume 18
This volume brings together the earliest attempts by Greek theologians and preachers to interpret the Virgin Mary's dormition, or "falling asleep" in the Lord, in the light of the whole Paschal mystery. This work includes the sermon of Bishop John of Thessalonica, which is the earliest "official" retelling by an Orthodox bishop of the traditional narrative of Mary's entry into heavenly glory. The collection also includes eleven other homilies from the seventh and eighth centuries, as well as a metrical translation of St. John of Damascus' canon for the feast. Some of the authors, like St. John of Damascus, St. Andrew of Crete, and St. Germanus of Constantinople, are well known; others less so. All the works represent profound and original efforts to integrate the celebration of Mary's death into the wider context of the Christian theology of redemption.
Most of these works have never been translated into English before, and some are not available in any modern language. They offer an unparalleled glimpse of Mary's central importance in Christian faith and spirituality as the one from whom God's Word took flesh. In the liturgical celebration of her dormition, these ancient preachers offer us an icon of Christian hope for the transformation of our humanity.
About the Author:  Brian E. Daly, S.J., is the Catherine F. Husking Professor of Theology at the University of Notre Dame.