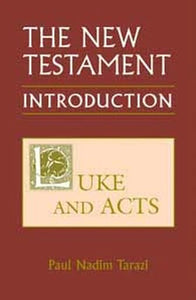 New Testament Introduction, The, vol. II; Luke and Acts - Bible Commentary - Book
Size: 5.5x8.5
Pages: 303
The title "Introduction" does not do justice to the contents of this volume, for while it provides the historical background and overview expected of an introduction, it also delves into details one would expect to find only in a full-fledged commentary.
The first section answers the broader questions of Luke and Acts: What prompted Luke to write his two-volume work and why did he write it in two volumes? Why did Luke, who knew and used Mark as a source, believe a second gospel was necessary? Why is the Holy Spirit so much more prominent in Luke and Acts than it was in Mark? What other sources - such as "Q" - did Luke use?
After giving the reader a clear overall picture of Luke and Acts, Tarazi devotes the remainder of the book to detailed exegesis. The previous volumes in the series - Old Testament and New Testament alike - are known for unlocking mysteries that have stumped other commentators. Luke and Acts is no exception. The reader will find convincing explanations for the parable in Luke 16 where Jesus praises an "unjust steward," Jesus' call for division rather than peace in Luke 12:51 and the apparently abrupt ending of Acts which has led many to suggest that the real ending was lost. Countless other features of the Biblical text are also discussed, including frequent corrections of misleading English translations and detailed explanations of how Luke used the written sources available to him.
About the Author: The Rev. Dr. Paul Nadim Tarazi is Professor of Old Testament at St Vladimir's Orthodox Theological Seminary. He is author of a three-volume introduction to the Old Testament, Galatians: A Commentary, and I Thessalonians, the first books in a modern Orthodox biblical commentary series published by SVS Press.