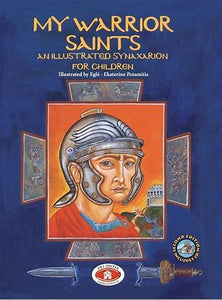 My Warrior Saints, includes CD - Childrens Book
A beautiful book about the only True Heroes, Saints who were martyred for Christ! Now with an Audio CD!
72 full-color pages, including troparia of these wonderful Saints, courtesy of Transfiguration Monastery, MA, USA.
Hardcover - Size 8.2x11.4 inches 21x29 cm), printed in full vibrant color.
TABLE OF CONTENTS
SAINT MERCURIUS
THE SWORD OF THE ARCHANGEL page 9

CONTENTS
SAINT PROCOPIUS
.THE POWER OF THE CROSS- page 37

SAINT CONSTANTING
CONQUER BY THIS page 43

SAINT THEODORE
A DREADFUL SERPENT DRAGON page 13
SAINT ARTEMIUS

SAINT MENAS
THE TERRIFYING RIDER page 49

"PIOUS ARTEMIUS AND THE CRUEL KING* page 17
SAINT GUSTATHIUS
VICTORIOUS EUSTATHIUS AND HIS FAITH IN GOD- page 21
SAINT CALLISTRATUS

SAINT NIKITAS
"A CHRISTIAN GOTH- page 53
SAINT SERGIUS

"THE FAITHFUL SOLDIER & HIS FORTY-NINE COMPANIONS> page 27
SAINT GEORGE
"THE SAINT AND THE DRAGON* page 31

SAINT BACCHUS
"TRUE FRIENDS IN CHRIST* page 59