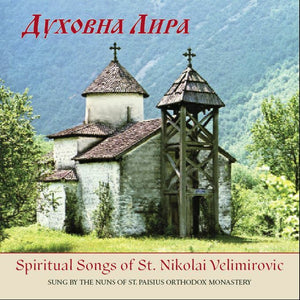 Music CD - Duhovna Lyra (Spiritual Lyre) Sung in Serbian Language
12 Songs
The renowned St. Nikolai (Velimirovich), along with so many other merits, was the leader of a renewal movement among the pious lay people of Serbia who loved to spend long hours singing spiritually edifying songs, sung in the Serbian language. These melodies lift the heart up to holy and noble things. The sound quality of this second edition has been improved. 
Review by Dimitrije Stefanovic, Professor of Music, Belgrade:
The appearance of the CD Duhovna Lyra came as an unexpected, pleasant surprise to everyone who had the priviledge to hear and enjoy this CD. Twelve spiritual songs in the Serbian language by the newly canonized Serbian Bishop St. Nikolia (Velimirovich, +1956) were recorded with the blessing of His Grace Bishop Jovan, the present Bishop of Shumadija and, at the time of the recording, Bishop of the Diocese of Western America.
The American born sisters under Abbess Michaila sang beautifully and with full engagement. Apart from the excellent musical production and correct diction of the Serbian words, the overwhelming impression is that these very popular devotional songs, based on folk melodies, contain a prayerful atmosphere which is felt during the listening. This could not have been achieved without the regular prayers and singing within the framework of the community's daily worship.
---