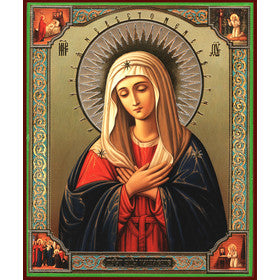 Mother of God Extreme Humility - with Scenes of Saint Seraphim of Sarov - Sofrino Large Size Russian Silk Icon - MPOV
Size`~ 6.75 x 8.25 inches mounted on wood. Imported from Russia and shipped from USA.
The icon is very famous for the veneration of our Lady by St Seraphim of Sarov a Russian ascetic of the 18th century. Tradition holds St Seraphim prayed most of this life before this image - one tradition holds he prayed for 2000 days on a stone slab in front of this image and died in its presence on Jan 2, 1833. Many of the visitors to St Seraphim were healed by this icon. It is treasured at the Diveevsk Seraphimovsk Monastery.
Sofrino is the  art and production company of the Russian Orthodox Church. These icons are so beautiful! The images I have on the website can not capture that beauty. They are much much more beautiful in person. They are a layered silkscreen of beautiful colors, then embellished with foil in gold and silver color. Enjoy!