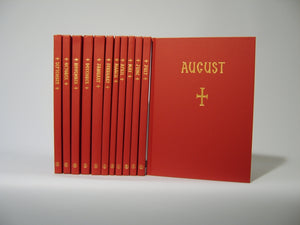 Menaion (12 Volume Set, in English) - Service book
The Complete Menaion
Translated from the Greek by the Holy Transfiguration Monastery. 2005.
Hardcover binding. 12 volumes, 2-color printing.
Providing the Services for the Feasts of Our Lord Jesus Christ, the Most Holy Theotokos, and Saints for every day of the year.

Set to the meter of the original Byzantine melodies
Large format for church use: 10" x 14" page size
Hardcover, sewn binding
A full-color icon of the Feasts and Saints celebrated that month makes the frontispiece of each volume
Printed in black and red throughout on Mohawk Vellum, a paper of archival durability and the highest quality