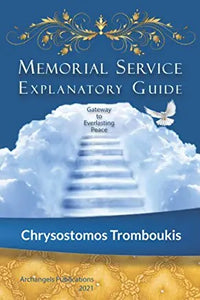 Memorial Service Explanatory Guide: Gateway to Everlasting Peace - Books by Chrysostomos Tromboukis
https://youtu.be/ma8VvXItTbk This book deals with individual testimonies of the ecclesiastical literature on the theology of prayer for the deceased, including testimonies on Memorials, the offering of boiled wheat called kollyva and the Eucharist on behalf of the deceased, because all these take place after and outside the funeral service. A memorial service is a ceremony commemorating someone who has died that takes place after the body has been buried. We are going to comment on things that takes place before, during and after a memorial service. But most importantly, we will underline those words and phrases of the memorial service that have a theological meaning. Basic questions that probably have troubled those who lost their
loved ones and pray for the repose of their souls, will be answered. When the Church prays for the dead, especially during the Saturdays of the Souls, questions regarding the souls arise seeking correct answers.
There are people who want to make sure if there is any worth of having a memorial service for their dead beyond the empty grave. "See! Your house is left to you desolate."1 There are mourners who wish to know
if the memorial service can really bring beneficial results to the souls of the departed. Therefore, with "the knowledge of the truth"2, they would arrange for a memorial service to take place. In the following pages of this book, we will attempt to handle this critical issue, with the faith and teaching of the Orthodox Christian Church, benefiting many broken hearts granting them heavenly comfort and relief, hope and trust in God's love.
1 Mt 23:38. Lk 13:35.
2 1Ti 2:4.
Language ‏ : ‎ 

English

Paperback ‏ : ‎ 

96 pages