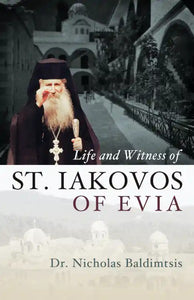 Life and Witness of St. Iakovos of Evia - 2 books - multiple book discounts - lives of saints and righteous ones
You are purchasing 2 of the same book at a 20% discount.
То many а modern man, holiness seems an exceptional, if not exotic, possession of а bye-gone age.

Even when modern day saints emerge, modern man struggles to connect their lives with his own, to bring the lessons learned from them alive in his own life. This struggle is made "easy'' and the "yoke" of true life in Christ is made light upon encountering the Life and Witness of Saint Iakovos of Evia.

From holy roots in Asia Minor, where а rich spiritual treasure was inherited from holy ancestors, to his ascetic struggle on the island of Evia, where rich spiritual fruit was borne forth, Saint Iakovos' life is pure inspiration for the spiritual athlete. Herein one will hear his life told in the first person, from his own perspective and in his own way: how his family established а new home as refugees, how God called him from childhood on the path to monasticism and His Grace poured through him for the edification of аll around him; how he lived as а hieromonk and spiritual father to many.

The narrator of this true life is the saint's close spiritual child and physician, an "eye-witness" of the mystery and the miracle that is the theanthropic life incarnate in man. Не helps make this book а bridge to the other side of life, the one hidden in Christ, allowing us insight into the saint's own experience of clinging to reverent piety, cultivating Orthodox faith in Christ, and pursuing holiness even amidst the malaise of modernity. 
Translated by Fr. Nicholas Metrakos
DETAILS
First published:

 

June 2023
Length (softcover):

 

112

 

pages
Size (softcover):

 

5.5

 

x

 

8.5

 

inches