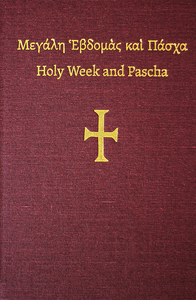 Holy Week and Pascha, Bilingual Edition - Prayer book
Translated from the Greek by the Holy Transfiguration Monastery. 2017.
Hardcover binding. 880 pages.
Our English translation of Holy Week with the original Greek text, on facing pages, plus the Unction Service for Holy Wednesday, and the Sunday of Pascha, including the Gospel of Agape Vespers in Greek, English, Slavonic, Latin, Georgian, Arabic, Romanian, Spanish, French, Italian, Portuguese, German, Hungarian, Swahili, Luganda, and Turkish, in the same handy personal size as our Prayer Book for Orthodox Christians, but approximately twice as thick.
This edition omits services not now done in general practice: the Small Vespers of Palm Sunday; the Compline Canons of Palm Sunday, Holy Monday, Holy Tuesday, and Holy Wednesday; the Service of the Washing of the Feet; and the traditional order of the Ninth Ode of Pascha.
Printed in red and black throughout.