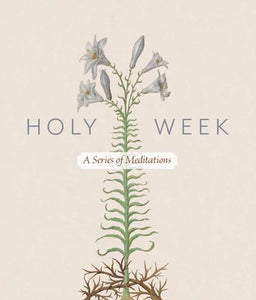 Holy Week: A Series of Meditations - Spiritual Meadow - Christian Life - Book
Yesterday, I was crucified with Christ,
Today I am glorified with him; 
Yesterday I died with him, 
Today I am made alive with him; 
Yesterday I was buried with him,
Today I rise with him. 
Let us make an offering to the one who died and rose again for us.... 
Let us offer our own selves, the possession most precious to God and closest to him. 
Let us give back to the Image that which is according to the image—recognizing our value, honoring the Archetype, knowing the power of the mystery and for whom Christ died.       —St Gregory the Theologian, Oration 1.4
The meditations in this book bring us to the very heart of Holy Week, to an encounter with Christ, and with our own true selves. Featuring fourteen meditations written by past and present professors at St Vladimir's Orthodox Theological Seminary, and lavishly illustrated with icons, manuscript illuminations, and paintings, the beauty of these pages will redirect the reader's inward eyes to the author of all beauty, who endured the darkness of Holy Week to bring us into the light of Pascha.