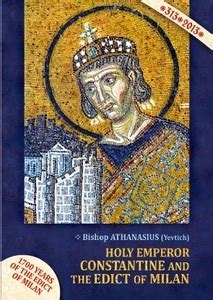 Holy Emperor Constantine and the Edict of Milan - Church History Book
English, 72 pages, softbound
By: Bishop Atanasije Jevtich 

The publication of this beautiful pocket-size, full-color, English-language book, has been compiled and designed by Bishop Athanasius, a disciple of the great twentieth-century theologian Archimandrite Justin Popovich. Bishop Athanasius' thought combines adherence to the teachings of the Church Fathers with a vibrant faith, knowledge of history, and a profound experience of Christ in the Church.
The book is available in bilingual, Serbian and English, versions.
The occasion of Emperor Constantine's conversion into the faith of Christ, and the Roman Empire's transformation from persecutor to protector of Christianity, is historically related to the famous Milan edict of toleration, i.e. the official decision of the Roman emperors Constantine the Great and Licinius to grant freedom to the Christian religion and Church. This Edict was issued in February of 313 in Milan, and promulgated in the East at Nicomedia on June 13, 313. 1,700 years ago, Europe tolerantly accepted Christianity as the free faith of the Cross and the Resurrection, as the Church of Christ the God-Man and Savior of the whole world. Where today, after 1,700 years, is this Europe?