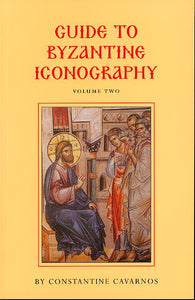 Guide to Byzantine Iconography (Vol. 2) - Iconography - Book
Constantine Cavarnos. 2001. Sewn paperback. 160 pages.
Detailed, illustrated explanation of ten major icons of the Festal cycle and of the iconography of God (the Holy Trinity, the Father, the Son, and the Holy Spirit), of the Panagia or Theotokos, of Saint John the Baptist and of the Angels, followed by illuminating remarks of Saint Nectarios of Aegina and Photios Kontoglou on iconographic "Types" and "Archetypes." Illustrations in b & w.