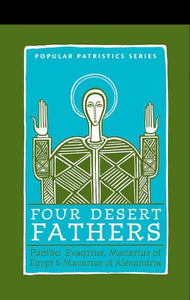 Four Desert Fathers: Pambo, Evagrius, Macarius of Egypt & Macarius of Alexandria - Lives of Saints - Book
Translator: Tim Vivian
Published: 2004
Size: 5x7.10
Pages: 202  Paperback
Popular Patristics Series Volume 27
The four desert Fathers who gave their names to this volume - Pambo, Evagrius, Macarius of Egypt, and Macarius of Alexandria - were well known some 1600 years ago in Alexandria and the monastic communities of Lower Egypt. They were most famous, perhaps, because the monk (and later bishop) Palladius recounted their Lives - preserved in the Coptic Palladiana - in his Lausiac History. 
The introduction describes the relationships among Palladius and Evagrius, Origenism, the spiritual and theological ramifications of the Anthropomorphite controversy, and subsequent effects on the Lausiac History and the four Coptic Lives of this volume. This work is a companion volume to Saint Macarius the Spirit Bearer, which contains the translations of three ancient texts: The Sayings of Saint Macarius of Egypt, The Virtues of Saint Macarius of Egypt, and The Life of Saint Macarius of Scetis. These three texts provide insight into one of the most venerated saints of the Coptic Orthodox Church and into life in the Egyptian monastic communities of the fourth century.
About the Author:  The Rev Dr. Tim Vivian is Lecturer in Religious Studies at California State University, Bakersfield, and the translator of numerous early patristics.