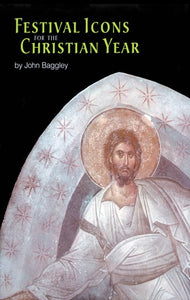 Festival Icons of the Christian Year - Iconography - Book
Published: 2000
Size: 5.5x8.5
Pages: 180  Paperback
Includes 18 color plates.
The beauty of Orthodox Christian icons is not only to be understood artistically: icons were created by Christians within the rich Orthodox tradition where they are at the center of prayer and reflection.
Beautifully illustrated with color plates, Festival Icons for the Christian Year introduces the reader to the most important icons of the Orthodox Church associated with major festivals, accompanied by words of prayer and liturgy. Discussion of each festival includes background information, extracts from the associated liturgical texts, detailed analysis on the icon illustrated with information about its development, and commentary on the theological and spiritual significance of the festival and its icon.
Written by a Western Christian who has come to value the Orthodox tradition of iconography, Festival Icons for the Christian Year opens up aspects of Christian discipleship which have been handed on to us by the Orthodox tradition of iconography, and shows how icons take us into the heart of the Christian revelation, engaging heart, mind, body and soul.
About the Author:  John Baggley is the author of the highly successful Doors of Perception (Mowbray and St Vladimir's Seminary Press, 1996). He is a Roman Catholic priest of the Archdiocese of Birmingham, currently working in Blackbird Leys, Oxford.