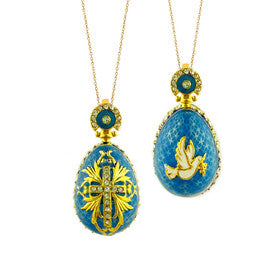 Faberge Style Egg Pendant With Cross and Dove on The back Side - Reversible - Sterling Silver 925 - Gold Plated 24KT - Chain NOT Included - 1 1/4 inch Turquoise Color - Easter Pascha Gift
measures 1 1/4 inch including bail - 925 Sterling Silver and 24KT Gold Plated
Miniature enamel egg - symbol of the Christ's Resurrection! 
Chain not included but we have a very nice selection of high quality chains available on our website.
In the Christian East the "egg" plays a central part of the faithful's belief in and the celebration of Pascha (Easter). One of the most beloved Imperial Russian traditions is giving a loved one a miniature jewelry egg to be worn alone or added to a necklace while exchanging of three kisses on alternating cheeks with the greeting CHRIST IS RISEN!
Initially these eggs were made of hand decorated wood or porcelain. With European jewelers, such as the Carl Fabergé Firm, eggs made in a precious metal containing an engine turned design with the application of a translucent enamel with the addition of precious stones. This type of enamel work is called "Gullioche" enamel - it is a French technique introduced in jewelry and objects of art by foreign jewelers in Russia.
This egg was made by a Russian emigre artist artel in the UNITED STATES in a similar manner and with the same care as the jewlers of Old St Petersburg. This egg is made of sterling silver (925) into which a design has been etched into the silver base over which a colored translucent enamel has been applied and polished, Jewels were sometimes added. Many of the enamel eggs had decorative bails such as this Fabergé style bows with crystals.