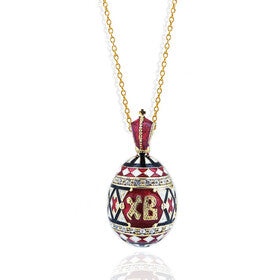 Faberge Style Egg Pendant Pysanky Style XB "Christ Is Risen" - Sterling Silver 935 Gold Plated - Easter Pascha Gift
size including the bail:  little over 1"  
Sterling Silver 935 and Gold Plated
The 935 indicates the grade of silver, which is slightly higher than sterling.
Chain not included but we have a very nice selection of high quality chains available on our website.
The "egg" as symbol of Christ's Resurrection was adopted by Russian Christians.  Miniature sterling silver and enamel eggs were a big part of this tradition.  This egg captures a folk design from Kiev and the Ukraine.  Designs like this capture the spirit of the work Faberge did in his Kievian shop.   Show your love and the "joy" of the feast by gifting a miniature egg.  These eggs were once described as "baubles to delight a Czarina.!