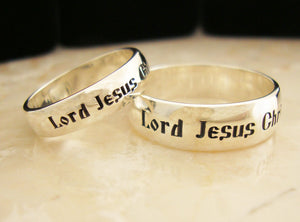 Rings - English Jesus Prayer Ring - Jewelry - Mens Sizes 7,8,9,10,11,12,14
Product Description
Note that the men's ring pictured is the one with a wider band.
Sterling silver (925) Jesus Prayer Ring inscribed with the words: Lord Jesus Christ Have Mercy on Me in English. Available in the men's and women's sizes listed in the drop down box above. Each ring is carefully hand-polished for a beautiful, high gloss finish, and comes complete with a velvet ring box. 
A beautiful "purity" ring, graduation gift, or engagement ring. To be treasured for a life-time.