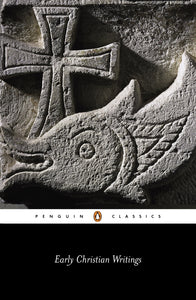 Early Christian Writings: The Apostolic Fathers - Church History and Theological Studies - book
The writings in this volume cast a glimmer of light upon the emerging traditions and organization of the infant church, during an otherwise little-known period of its development. A selection of letters and small-scale theological treatises from a group known as the Apostolic Fathers, several of whom were probably disciples of the Apostles, they provide a first-hand account of the early Church and outline a form of early Christianity still drawing on the theology and traditions of its parent religion, Judaism. Included here are the first Epistle of Bishop Clement of Rome, an impassioned plea for harmony; The Epistle of Polycarp; The Epistle of Barnabas; The Didache; and the Seven Epistles written by Ignatius of Antioch--among them his moving appeal to the Romans that they grant him a martyr's death.
For more than seventy years, Penguin has been the leading publisher of classic literature in the English-speaking world. With more than 1,700 titles, Penguin Classics represents a global bookshelf of the best works throughout history and across genres and disciplines. Readers trust the series to provide authoritative texts enhanced by introductions and notes by distinguished scholars and contemporary authors, as well as up-to-date translations by award-winning translators.

About the Author
Andrew Louth
, born in Lincolnshire and brought up in the north of England, studied Theology at the universities of Cambridge and Edinburgh. From 1970 to 1985 he was Fellow and Chaplain of Worcester College, Oxford, and University Lecturer in Theology, teaching prinipally Patristics. In 1985 he became Reader in History at Goldsmith's College, London. He is the author of 
The Origins of the Christian Mystical Tradition
 (1981), 
Discerning the Mystery: An Essay on the Nature of Theology
 (1983) and 
Denys the Areopagite
 (1989). He has also edited 
Early Christian Writings
 for the Penguin Classics.