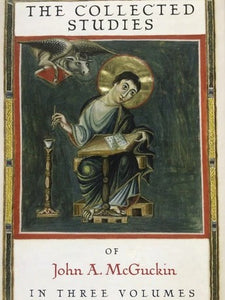 Collected Studies of John A. McGuckin (3 Volume Set) Theological Studies - Book
Published :2017
Size: 6 x 9
Pages Vol 1: 266
Pages Vol 2: 389
Pages Vol 3: 408
The Collected Studies of John A. McGuckin offers the fruits of decades of research and scholarly achievement. The three volumes represent three pillars, upon which the life and outlook of Orthodox Christians must rest: Volume One, Witnessing the Kingdom, presents studies in the history and theology of the New Testament; Volume Two, Seeing the Glory, includes numerous studies on different Fathers of the Church and their theology; Volume Three, Illumined in the Spirit, delves into Orthodox spirituality in the past and present. Without these three—Scripture, the Fathers, and spirituality—our life and vision are incomplete.
The first volume, Witnessing the Kingdom: Studies in New Testament History and Theology, readers join an Orthodox theologian and historian who engages Scripture in a thorough and sustained manner. McGuckin considers the questions and concerns of modern and postmodern scholars, such as the many "quests" for the historical Jesus, while keeping an eye on the tradition of the Church. He explores modern hermeneutics in light of patristic patterns of scriptural study, and proposes a way forward for Orthodox readers who wish to confront contemporary questions in light of our perennial tradition.
Volume two, Seeing the Glory: Studies in Patristic Theology, readers encounter the theology and vision of the fathers from their first foundations through their full flowering. Beginning with the apostolic fathers and the School of Alexandria, through the great Cappadocian fathers, the Christological controversies of the following centuries, and the profound thought of St Maximus and the later fathers, these studies illumine the fathers' understanding of the person of Christ, the mystery of the Trinity, and the profound dynamic of our salvation and deification.
The third volume, Illumined in the Spirit: Studies in Orthodox Spirituality, readers encounter the deep spirituality of the Orthodox Church from several different perspectives. From prayer and asceticism to modern questions of violence, pacifism, marriage, and human rights, these studies show the life of the Church from its ancient roots to its modern surroundings.
About the Author: John A. McGuckin is a world-renowned scholar, the author of more than twenty-five books and over one hundred articles. He was Nielson Professor of Early Church History at Union Theological Seminary, and taught for over thirty years in numerous universities in Europe and America. He is a Fellow of the Royal Historical Society of Great Britain, and is the recipient of honorary doctorates from St Vladimir's Orthodox Theological Seminary and Sibiu University. He is an archpriest of the Orthodox Church of Romania, and the recipient of the Romanian Order of St Stephen, the Gold Cross of Moldavia and Bukovina.