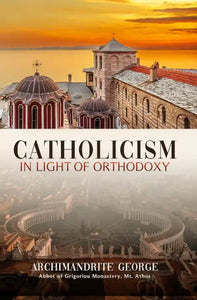 Catholicism in Light of Orthodoxy by Elder George of Grigoriou - 2 Books - Multilpe Book Discounts
You are purchasing 2 of the same book at a 20% discount.
As Christians give "rights" to the enemy through sin, the boundaries between Orthodoxy and heresy are blurred under the influence of the prince of this world. In response, the Holy Orthodox Church presents us with the wisdom of the holy ascetics, to inspire and form within us that ecclesiastical outlook which is presupposed for an organic, life-giving communion in the Body of Christ.
Catholicism in Light of Orthodoxy by the ever-memorable Elder George of Grigoriou Monastery on Mount Athos is just such a work of Spirit-born wisdom.  
When such a revered churchman speaks, who tempered academic prowess with the refined Athonite life, it behooves all Orthodox Christians to closely consider his words. In just a few pages the blessed elder examines the main differences which prevent the Orthodox from recognizing the Spirit of Truth as animating Catholicism. He examines the heresy of the filioque as born of innovative belief and the mother of false philosophies in the West. He explains how salvation is denied when Catholicism professes a belief in "created grace." The folly of papal infallibility and a Vatican state is likewise presented to the readers, along with an analysis of "anthropomorphism," a distorted perspective which has arisen from within Catholicism and proved itself alien to the Orthodox Faith of the Holy Fathers.
In the face of the march of the world-minded to dissolve those boundaries which delineate the truth of the Faith and protect against spiritual deception, Elder George points us forward to continue to cling to Christ, Who is our life and salvation. Herein the reader will be clothed with spiritual armor, protection against apostasy and power to live in the embrace of Truth Incarnate, that is, the Holy Orthodox Church.
First published:

 

October 2022
Length (softcover):

 

32

 

pages
Size (softcover):

 

5.5

 

x

 

8.5

 

inches