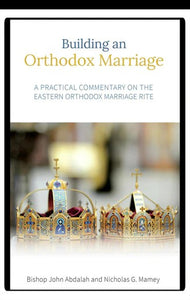 Building an Orthodox Marriage: A Practical Commentary on the Eastern Orthodox Marriage Rite - Spiritual Instruction - Book
Published:2017  Paperback
Size:5.5 x 8.5
Pages:132
Building an Orthodox Marriage offers sage counsel that is both practical and grounded in the teaching of the Church, as found in Scripture, tradition, and the marriage service itself. The coauthors bring their knowledge and experience to the aid of readers: Bishop John (Abdalah) distills his insights from his many years of marriage and pastoral guidance, as well as from the teaching of Fr Alexander Schmemann. Nicholas G. Mamey contributes his perspective as a newly married man. Together, they take readers on a journey that prepares them to understand marriage, the "great mystery" that is an icon of "Christ and his Church" (Eph 5.32).
The authors first establish the theological background needed to understand marriage in an accessible way. They then examine and explain the rich prayers and the liturgical actions of the wedding service, and conclude the book with pastoral guidance to help couples build their marriages securely on the only foundation that cannot be shaken, our Lord Jesus Christ.
This book is ideal for engaged couples, newlyweds, or those who wish to enrich their marriage at any point in their relationship. It is also an indispensable resource for pastors who help couples to prepare for marriage.