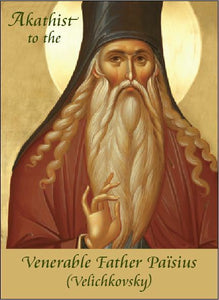 Akathist to the Venerable Fr. Paisius - Prayer Booklet for Enlightenment and Guidance
Akathist to the Venerable Fr. Paisius (Velichkovsky) of the Holy Mountain and Niamts. 
   Our Father among the Saints, the Great Schema-Archimandrite Paisius (1722-1794), truly is, as this akathist says, a "chosen commander of spiritual warriors, guide and all-wondrous shepherd of monks, who through the writings of the Fathers fed our souls." And he feeds us yet today, though his writings, his witness, and most importantly through his heavenly intercession.

This new release is the fourteenth in our well-known Akathist Series, printed in an attractive, pocket-sized format, with extra-sturdy covers intended for frequent use.  Includes several full-color depictions of the Saint.  40 pages.