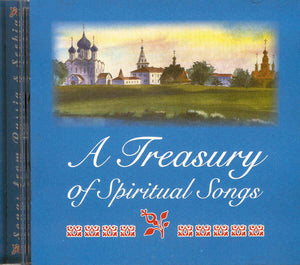 A Treasury of Spiritual Songs - Music CD - English Language
This CD includes spiritual songs from Russia and Serbia sung in the English language. Sections include songs written by St. Nikolai (Velimirovich), Abbess Thaisia (of Russia) and many others, sung by the nuns. Powerful in their sobriety, prayerful in their expression and delightful in melody. Included with this CD is a 12-page booklet of lyrics.
Some song titles: Psalm 120, The Sea of Life, Prayer on the Resurrection, Mighty Bells, and more.
Review: In 2002, the Nuns of St. Paisius Serbian Monastery in Safford, Arizona released "Duhovna Lira" (The Spiritual Lyre), a CD of Serbian spiritual songs, on texts by St. Nikolai (Velimirovic) (+ 1956). On the present CD many of these simple, endearing melodies have been translated into English. As before, they are sung with lovely simplicity and musicality by the small choir of nuns of St. Paisius Monastery. This CD highlights and revives the historically important tradition of Orthodox non-liturgical songs with a spiritual content, that has largely been neglected among modern-day Orthodox, but which is, nevertheless, an important traditional means of educating and nurturing both children and adults in the faith.--Dr. Vladimir Morrisan