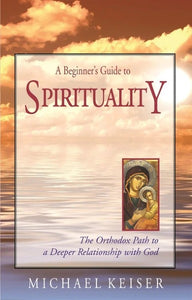 A Beginner's Guide to Spirituality: The Orthodox Path to a Deeper Relationship with God - Christian Life - Book
 by Fr. Michael Keiser
Spirituality is in! Monks go platinum with recordings of chant, and books on self-help spirituality overflow supermarket bookracks. But what is the meaning of true spirituality? Aren't we all a little confused? Genuine spirituality keeps us in balance with God, our neighbor, and the material world.
Fr. Michael Keiser walks us through the Orthodox Church s timeless teachings and practices on the ancient understanding of Christian spirituality with humor and keen insight. He outlines how ascetic practices, personal and corporate worship, confession and repentance, overcoming the passions, and opening ourselves up to God s grace can lead us to transformation, and to our ultimate destiny Jerusalem, the heavenly city. 
About the Author: The Very Rev. Michael Keiser is a convert to the Orthodox faith who was raised in the Western Christian tradition. He has studied in both the Western and Eastern traditions of Christianity, and has been actively involved in evangelism and outreach on behalf of the Orthodox Christian Church. An Orthodox priest for thirty years, he has served his entire ministry as part of the ancient, biblical Church of Antioch, both in the United States and Europe, and currently works in the Department of Missions and Evangelism of the Antiochian Archdiocese. During his career he has worked with 28 different congregations in the areas of renewal and growth, established new congregations, and guided many who have found a true home in Orthodox Christianity.
Fr. Keiser has written five books dealing with worship, spirituality, and an Orthodox comprehension of suffering. He currently lives in Florida with his wife of 39 years, Angelina.
Paperback - 112 Pages