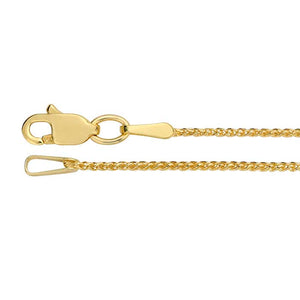 14K Yellow Gold 1mm Diamond-Cut Wheat Chains - Gold Chain
Metal type : Gold
Karat : 14K
Weight : 1.87 g (0.066ounces) for 16 inch chain

Fine chain is delicate and should be treated with due care to help prevent breakage.

This 14-karat yellow gold wheat chain features light-catching diamond cuts links; the chain makes a great foundation for small pendants and drops.





A variation of the rope chain, wheat chain is made with alternating figure-eight links that are closely interconnected to present a braided look and an almost square profile. Diamond-cut versions have facets precision-cut into the links with diamond-tipped tools. The facets are then polished to enhance the light-reflecting properties of the link surfaces.