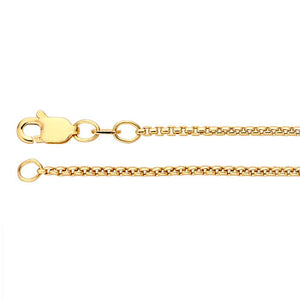 14K Yellow Gold 1.35mm Hollow Rounded Box Chains - Gold Chain
Metal type : Gold
Karat : 14K
Weight : 2.1 g (0.074ounces)

Featuring lightweight, hollow links, this stylish 14-karat yellow gold box chain has a rounded profile and is a great choice for custom designs.

Box chain has squared-off links that resemble cubes; they are sturdy chains, ideal for pendants. Rounded links give the chain a contoured profile. In hollow box chain, the links are fabricated and give the finished chain a lighter weight.